In How to Lose a Guy in 10 Days, in an effort to impress her boss, a staff writer in NYC attempts to date a guy and then drive him away in under ten days by "only using the classic mistakes women make."
That sounds like a lot of work simply to drive someone away.
However, in the business world, there are organizations which make these "classic mistakes," and repeatedly drive away customers and leave them unsatisfied. What are some of these mistakes?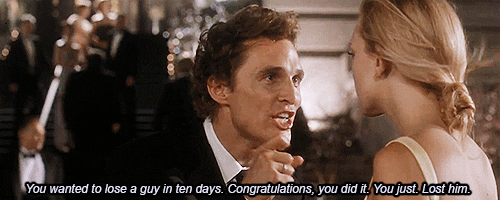 Copyright Paramount
Straddling the Fence
It's hard to be decisive and accomplish business goals, when you don't even know what the goals of the business are. That defies all logic. And yet, that is exactly how some businesses attempt to conduct their organization.
Executive leadership and middle management are unwilling to take risks and think creatively, and simply fall back into the habits they have established for themselves of "Show up and shut up."
And every once in awhile, leadership will sit down (especially during budgeting) and actually plan company goals.
But for these companies, goals and incentives do not stay aligned during times of organizational stress, when that is precisely the time that goals and plans need to be followed.
Silo Paralysis
This is a fancy way of saying that different subgroups develop within a company, and break down the trust that is necessary for an organization to do its job well.
For instance, there might be a sales silo, and an accounting silo, and a management silo, each of which is accomplishing its own goals, instead of all working on the goals of the company. Inertia and incoordination is the norm rather than the exception.
Non-value added waste is tolerated and/or confirmed as normal practice – does this sound like you?
The budget process becomes a proxy for strategic planning – that is, the amount of money the company is willing to spend on a project determines how important it is, not the other way around.
Misalignment
Just as a romantic relationship can only work if both members are on the same page with goals and expectations, a business relationship (especially among many different people and groups of people) needs the same sort of alignment between departments.
If internal incentives and accountabilities are not aligned, that is, if every member of the organization is not working with the same goal in mind, in their various capacities, then the business is misaligned.
Unresolved conflicts exist between leaders and organizational constituents (associates, partners, and suppliers), and like all unresolved conflicts, this will sooner or later bubble over into a big fight, or lead the company to fail in its objectives.
Insufficient Goal Prioritization and Monitoring
In a relationship, if you're not happy, or if your partner isn't happy, then it doesn't matter what else is really good about the relationship. Without happiness, your relationship isn't working the way it should.
In an organization, the focus should be on the most critical performance: customer satisfaction. If the customer isn't happy, then it doesn't matter what else you do well as a company – successful organizations have customer first, zero defect performance, and are able to repeat those results.
If there is a lack of consistency and discipline, then the performance and outcome measures identified in the strategic plan may need a bit more oversight.
In an strategically aligned organization, there is only one expectation for all projects and client interactions: On-Time, Complete, and Correct (OTCC).
Poor Performance
Finally, if your organization does not consistently achieve its performance targets, whether they be quality, safety, customer satisfaction, market share, or financial targets, then you have a strategy deployment problem on your hands.
If one of these "classic mistakes" reminds you of the frustrations you have in your organization, don't despair!
The Strategy Deployment Institute specializes in the successful implementation of strategic objectives, tailored to your specific organizational needs.